Of course London makes the biggest contribution to the UK's finances
It's no surprise the capital puts more in than it takes out, but that doesn't mean the rest of the country should try to emulate it.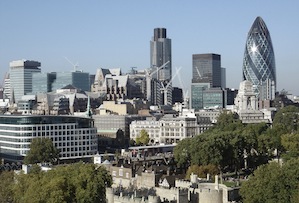 London made a net contribution of £34bn to the Treasury's coffers in 2013/14, up from £28.2bn the previous financial year. That makes it one of only two UK regions, along with the South East, to record a surplus and by far the biggest taxpayer.

Public sector spending as a proportion of total economy activity is the lowest in the country, according to the study by the Centre for Economics & Business Research. Meanwhile, it expects the capital's economy to grow 4.2% this year, compared to 3% across the whole country.

That shouldn't surprise anyone - it's pretty obvious London is an exceptionally wealthy black hole, sucking in investment, talent and commuters from the rest of the UK and around the world.

'The solution is glaringly obvious: the rest of the UK needs to become more like London,' the Telegraph deputy editor Allister Heath wrote in response to the figures. But while Heath didn't specify what problem that would be solving, it isn't actually all that obvious that creating the United Kingdom of London would be a uniformly good thing.

Of course it would be great if the whole country could grow at the same rate as London. But a large part of what makes its economy so booming and vibrant is its uniqueness. George Osborne's recent pledge to turn Manchester into a 'northern powerhouse' is a good one, but it would be impossible to create another global financial centre a couple of hundred miles up the road. Britain's other cities need to have their own USPs (think New York vs San Francisco, for example).

And you will have been living in a cave if you haven't heard about the capital's housing problems (although Oxford is actually the most expensive city to buy property in when prices are compared to average salary, according to a recent Centre for Cities report). In short, most property is out of the reach of even relatively well-paid professionals, pushing workers out into the suburbs and beyond.

PwC's head of regions Stephanie Hyde put the issue in starker terms in a recent op-ed for MT: 'The reality is we're swiftly getting to a situation in London where there's just no more room.'

That doesn't mean London should be brought down a peg, or that its problems should be left unsolved. But the rest of the country needs to find its own way, probably, as Hyde suggests, through other cities clubbing together. The UK can't do without the capital's massive contribution to the public purse, but no one (except house builders and estate agents) wants London House Prices V2.0.