Crash-and-burn: F1 headhunt to replace Ecclestone begins
Formula One racing boss Bernie Ecclestone's future hangs in the balance as the race to find his replacement begins.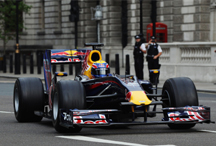 Having ruled Formula One for more than three decades, Bernie Ecclestone's time could be almost up. He is currently facing a $400m compensation claim from one of the largest banks in Germany, BayernLB, which he allegedly 'short-changed' during the sale of Formula One eight years ago. It is not yet known whether Ecclestone will face criminal charges, but at 82, and with headhunters already being drafted in, his future as F1 supremo is starting to look a bit uncertain.
Apparently members of the Formula One board have asked one of the largest global headhunting companies to start preparing a shortlist of possible candidates to replace Bernie. Egon Zehnder International is believed to be the lucky firm, and worried shareholders are keen for a replacement chief to be found just in case he does end up facing criminal charges in Germany.
So what actually happened? Well, a former BayernLB exec, Gerhard Gribkowsky has testified that the bank's stake in Formula One was worth $450m more than CVC Capital Partners paid for it ($756m) back in 2005. Ecclestone himself co-ordinated the deal, and also apparently received $66m from Gribkowsky for making sure the deal went off without a hitch. The bank wants that money back, too.