Crash Course in: becoming a business angel
You've accumulated a decent amount of capital and now the idea of investing in start-up businesses appeals. But have you got what it takes to be an angel?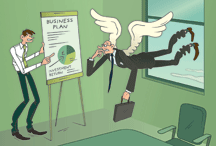 Show us the money. You'll need at least £50,000 to £100,000 to spread over up to a dozen investments, says Chris Allner, who chairs investment for Octopus Ventures and its network of private investors. But, orphans and widows, take note: 'You may not get it back, so it should represent only 5% or 10% of your total assets,' he adds.
What are you looking for? Most angels are looking for more than just financial investment. 'It's a great way to get involved in young businesses and pass on your knowledge and experience,' says Tracy Light, head of marketing at network Angel's Den. 'A lot of our members want to give something back to the business community.'
Steel your nerves. A Nesta study in 2009 found that 56% of angel investments ended in failure. 'At times you'll think the business won't survive and at others you'll be elated by it winning a big contract. It's definitely not for the fainthearted,' says Allner.