Crash Course in... Becoming carbon-neutral
You used to think that being green was a luxury for your company, but climate change has made you realise that you can no longer ignore it. The buzz is about becoming carbon-neutral, but where do you start?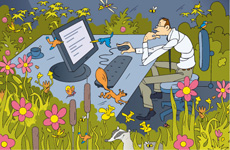 Consider your drivers. Do you want to become carbon-neutral for marketing reasons, for financial reasons, or just to save the planet? Says Mark Armitage of the CarbonNeutral Company: 'Your drivers will help to tailor your carbon-reduction programme and determine key performance indicators.' Build a case for going carbon-neutral.
Measure it. First, measure your current carbon footprint - or get a specialist to do it for you. That primarily means taking account of your energy usage and emissions caused through travel. Before you begin, think about whether you're collecting the right data and whether it's readily accessible.
Switch it off. 'Most companies can save around 15%-20% of their energy consumption through a combination of measures such as getting people to turn off lights, re-setting temperature switches, reducing air-conditioning use and insulating,' says James Wilde, head of strategy at the Carbon Trust.