Crash course in... effective induction
With all the hoo-ha at Citigroup right now, many are calling for its chief exec 'Chuck' Prince to fall on his sword. If he does go, his successor is going to have to hit the ground running to make up the bank's huge write-down following the sub-prime debacle. So he doesn't have to waste time finding out where the coffee machine is, here's the low-down on how to make inductions work, courtesy of MT's Crash Course.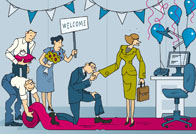 Don't wait. As soon as a job-offer has been accepted, send the new hire an information pack that includes the company's annual report, staff handbook, newsletters, terms of employment and a guide to their new workplace, so that when they turn up on the first day, they'll already feel some familiarity.
First impressions. Ensure that a colleague is there to meet and greet on the first day. Getting the new person to start half an hour after everyone else on their first day gives you the chance to be ready. Make sure they have a desk - turning up and finding there's nowhere to sit makes you feel unwanted.
What's covered. According to the Chartered Institute of Personnel and Development, your programme should cover basic information such as orientation in the building; where the new person fits into the organisation; health and safety information; and employment terms and conditions. But Graham Wylie, head of marketing for Reed Consulting, says it should go further. 'They should also learn how to build a network of relationships within the organisation, and about the culture and values.'