Crash Course in: Finding a business partner
You want to set up your own business and you have the kernel of an idea. But rather than go it alone, you'd prefer to find a partner to share the load. The question is, how do you find that significant other?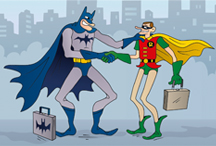 Get networked. Entrepreneurs rely heavily on networks, so join as many as you can, especially those specific to your industry. 'Approach it in a structured way,' says professor Nigel Lockett, director of the Leeds Enterprise Centre. 'Think about the opportunity you want to exploit and then set out to identify people who can help you.'
Consider brokers. A number of companies keep databases of potential enterprise directors. Organisations such as Directorbank (directorbank.com) are particularly good for finding an experienced pair of hands.
Look for complementary skills. Doug Richard, former Dragons' Den investor and founder of School for Startups, says most people's core competency falls into one of three 'buckets': sales, delivery or analytic. 'So you have to think about which one is you and then find the other two. It's a very common failing to hire people like yourself so you end up with three engineers, or three sales directors, and completely unbalanced.'