Crash Course in: flying the flag
If you've just done some market research about the company and found that most consumers think your brand is Scandinavian, maybe it's time to trumpet your British credentials...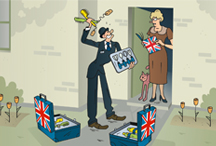 The world likes us. Simon Anholt, an independent adviser specialising in national image and reputation, says: 'I compile the Nation Brands Index (20,000 consumers in 20 countries), which regularly puts the UK near the top of the list - we are very much admired around the world.' British products are ranked joint fifth with France's. A study by Leapfrog Research this year found that in the UK 74% of people prefer to buy British goods, given the chance.
Made in .. is good. 'Referencing your country of origin is helpful to consumers because it simplifies the decision-making process,' says Anholt. 'Knowing where a product comes from helps consumers to choose.'
It's not uniform. Perceptions of British products do vary by sector and by market. 'In the high-tech sector, sadly and wrongly, there is not a primary association with the UK,' says Anholt. 'Made in Britain' scores highly for heritage and some luxury products, as well as for creative industries such as fashion and design. And British provenance is more likely to be valued in former colonies than in countries with few historic links.