Crash Course in: going back to the floor
The organisation isn't quite firing on all cylinders but nobody can tell you what's wrong. A survey shows your people think senior management is 'remote'. Time to get back to the floor?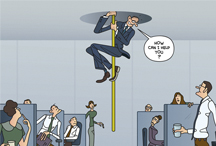 It's not about PR. 'The purpose of spending time on your front line should be to engage with staff, to listen to them and to experience your customer service,' says Jo Causon, chief executive of the Institute of Customer Service. 'Don't do it to make people think you're brilliant,' adds Tim Buckley of the Institute of Internal Communication and managing director of consultancy AB. 'Do it because you want to genuinely learn their frustrations and the challenges they face.'
Undercover or not? Going incognito isn't a good way, it can seem like CCTV or spying,' says Cary Cooper, professor of organisational psychology at Lancaster Management School. 'People won't trust you if they think you are spying.' Open and transparent is usually best and the 'undercover boss' approach is justified only when there's no other way to find out the truth - especially if you have damaging service issues.
Arrive without warning. 'If you tell people you're coming they will prepare,' says Cooper. And Buckley adds: 'Just turn up and say: "I'm here to help you today, guys." You don't want to be always smelling fresh paint, like the Queen.'