Crash Course In: Managing remote working
More of your people are working at home, and a growing number are permanently based outside the office. How do you manage a remote workforce?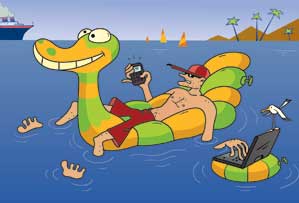 Be selective. Most people could work outside the office, but some adapt better than others. Lynette Swift, managing director of consultancy Swiftwork, says attributes shared by the best home workers include an ability with technology, time management skills, self-motivation and self-discipline. 'You need to check that people have an appropriate environment for working remotely. If they have young children and no designated quiet area, it may not be feasible,' she adds.
Relate remotely. 'Teams which perform best are the ones whose members learn to work on the relationship aspects as well as on the task and who don't need to meet face-to-face,' says Ghislaine Caulat, associate business director at Ashridge Consulting.
Tailor the talk. Peter Thomson, director of Wisework and co-author of the book Future Work, advises that it should be about adapting communication to the individuals concerned. 'Some people are happy to receive an email, others find that impersonal and appreciate a phone call or even talking to the manager on Skype.'