Crash and learn
Once bitten, twice shy, is the rule in stock markets according to new research, which also echoes the saying that there are some things they just can't teach you in school.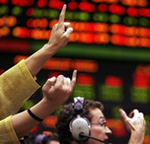 The study by the Stanford Graduate School of Business and Harvard Business School offers big clues about why stock market bubbles reappear with such regularity and, despite the huge amount of work published on the subject, each new generation of investors convinces itself that this time it will be different.
Robin Greenwood, HBS assistant professor of finance, and Stefan Nagel, GSB assistant professor of finance, looked at how investors form expectations for the future, and the connection between this and the conditions that lead to market bubbles.
Their empirical study found that experience is the true teacher of how to spot a stock market bubble and avoid getting burnt by it, while those investors who have only studied the phenomenon tend not to learn the lessons of history.
Intellectual knowledge of the risks of over-valued stocks does not seem to enable investors to avoid future speculative disasters, according to Greenwood and Nagel. Only first-hand experience of a bubble teaches traders to be wary of high returns that are too good to be true, yet that experience-based knowledge is lost from the market over time.
Nagel, who teaches the core finance class to MBAs, said: "After a crash people are quite aware of the potential dangers and adjust their investing behaviour accordingly. But after 20 years or so, that memory is erased, and you again have the conditions that make another market bubble possible."
They compared the investment decisions of experienced and inexperienced mutual fund managers during the late 90s technology bubble. At the start of the bubble in 1997 the younger fund managers trailed the older ones in betting on technology stocks, but by the time the market reached its peak in March 2000, younger managers far exceeded older fund managers' holdings of these stocks.
"Young managers chased the trend, but older managers did not," says Nagel. As the bubble developed, funds run by younger managers performed better and attracted more funds, so much so that they ended up controlling four times as much money as they started with by the time the bubble burst.
"It seems older managers were more sceptical about how well these technology stocks would do in the future," Nagel says. This flies in the face of conventional economic theory, which says that experience should have no effect on the decisions of a market actor. But Nagel and Greenwood found a big gap between the findings of previous laboratory tests on bubbles and investor behaviour, and their empirical research on the subject.
Nagel is involved in another study that confirms that individual investor behaviour is highly correlated with their personal experience. Those who lived through the Great Depression or market doldrums of the 1970s are much less likely to put money into stocks in future, the study has found.
Yet the source of knowledge, be it experience or otherwise, is immaterial according to the textbooks. As Nagel says: "After all, even if you're a younger manager, you should still have learned about past bubbles and what happened in the stock market over 100 years. In fact, MBAs teach this. But it turns out that on-the-job experience is what counts."
Source: Stanford Graduate School of Business
Just hearing about a stock bubble won't keep investors out of trouble
December 2006
Review by Joe Gill