How to create an engaging workplace
Employers should read Why Should Anyone Work Here?. It's full of advice on how to encourage everyone in a company to be the best they can.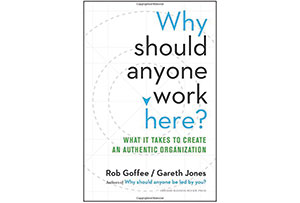 Goffee and Jones like to challenge their readers. Their previous bestseller asked Why Should Anyone Be Led By You? In Why Should Anyone Work Here? the challenge is greater.
Directors surely want their people to know 'why they work here' so that they are productive, creative, loyal and satisfied. But evidence does not bear that out. Goffee and Jones cite a recent AON Hewitt survey in which four out of 10 workers report being 'disengaged' worldwide; three out of 10 in Latin America; four out of 10 in the US; and five out of 10 in Europe.
If 50% of the European workforce is disengaged, no wonder we have the slowest regional economy in the world, and as a consequence this is an even more important book than their one on leadership. The good news is that they have some memorable guidance to give us.