The credit crunch: just so 80BC...
An Oxford historian says the credit crunch isn't so novel: the same thing happened in Republican Rome...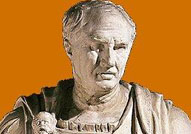 Philip Kay, a classics fellow at Wolfson College, Oxford University, suggested today that the world's first credit crunch took place in Rome in the early 80s BC, while Mithridates of Pontus was making a nuisance of himself in the East. Apparently the orator Cicero gave a speech in 66BC reminding listeners of 88BC, when the losses incurred fighting the king in Asia led to a sudden contraction of credit in Rome. We wonder if the Romans got as sick of hearing about the crunch as we have?
Kay says that Mithridates' incursions came after a period of huge economic expansion for Rome – as she spread her influence, particularly in the East, there was an unprecedented supply of gold bullion flowing back into the public coffers, and an explosion in the practice of money-lending in and around the forum (in other words, cheap credit and an expanding money supply). There was then a big shock to the system: Mithridates' invasion of Asia, which cost Rome a fortune. As money drained out of the system, lenders began calling in loans and hoarding their money. Sounding familiar yet?
Cicero (who was trying to persuade his countryman to fight off Mithridates' later assault) even gave an early warning about the dangers of globalised finance. 'Believe me when I tell you - what you see for yourselves - that this system of monies, which operates at Rome in the Forum, is bound up in, and is linked with, those Asian monies; the loss of one inevitably undermines the other and causes its collapse,' he told his audience. Substitute 'US sub-prime' for 'the Asian monies' and 'the UK banking system' for 'the system of monies at Rome', says Kay, and the parallels are spooky.