Crispy crisis as Findus pancakes
The recession claims another casualty, as fish finger business Newcastle Productions calls in administrators.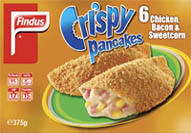 So what? Another day, another company in trouble, we hear you cry. But hang on a minute - for readers of a certain age (you know who you are) this is much bigger news than it seems. And not just for the 420 employees whose jobs are now on the line. For Tyneside-based Newcastle Productions is better known as the UK license holder for the Findus frozen food range, so this apparently routine piece of business gloom could spell the end of that iconic frozen breaded foodstuff, the Findus Crispy Pancake.

With its three mouthwatering varieties (minced beef, chicken bacon & sweetcorn and three cheeses - it seems that the chicken curry flavour has fallen by the wayside, alas) the Crispy Pancake has been a staple of both schoolchildren and students alike for some three decades. It harked back to the heyday of frozen food, that early 70s era of freezer-to-table innovation that also brought us the Arctic Roll and the immortal Potato Waffle.
Generations of youngsters got their first taste of culinary success at the hands of the Crispy Pancake, the successful preparation of which (no burnt patches, no escaped filling and breadcrumb coating intact) required at least a passing familiarity with a frying pan. Something which could not be said of arch convenience-food rivals, the baked bean and the Pot Noodle. Whether eaten after a night of hard partying or ahead of a stint of emergency revision, the Crispy Pancake's winning combination of carbohydrate, protein and fat was the perfect adjunct to scholarly achievement of all kinds. Let's just hope that a solution to Newcastle Production's current travails can be found, so that the Crispy Pancake can live on.
Ironically, it seems that a serious fire on the crispy pancake production line last Tuesday was responsible for shutting the entire factory (which also makes fish fingers, fish pie and pasta bakes), precipitating a cash flow crisis and the need to call in the administrators. If you ask us, they should never have left the pan on while they went to watch Countdown…