Crumbs! Bakery spat turns up the heat
An entrepreneur has launched a lawsuit against his former business partner after the two set up rival artisan bakeries. The moral: when there's bread involved, beware verbal contracts...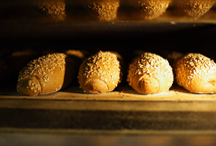 David Krantz, owner of the Artisan Bakery in Park Royal, north-west London, has gone to the High Court to sue Doron Zilkha, founder of Bread Boutique off London's King's Road, for £200k. He claims Zilkha owes him for a series of unpaid loans.

It all shows the turmoil that can come from breaking bread together. Zilkha has accused Krantz of reneging on a verbal agreement made in February 2009 to expand the Bread Boutique brand together across London. Those plans clearly turned to toast: Zilkha also reckons Krantz, who was one of the brains behind cosmetics company Space NK, poached his master baker and other staff.

In the writ Krantz alleges Zilkha agreed but failed to transfer all his shares in Bread Boutique to him. He also claims they agreed Krantz would become chairman of Zilkha's Brompton Road brasserie. Zilkha is contesting the claim and said he was a majority shareholder in both businesses and didn't agree to transfer control.

Of course, such a spat is par for the course in entrepreneurial ventures, but it's struck a chord with us. Not least because we can't help wondering why people don't just write things down. In the age of digital communication, even social interactions are eminently traceable – whether that's via IM, Facebook, Twitter or Gmail. Most people even have a video camera in their pocket all the time. You'd think it was actually harder these days to have a conversation that couldn't be concretely referenced. It seems like these artisan bakers are taking their commitment to more traditional ways a bit too far.
Indeed, while they do make a play of lovingly tending to their loaves, it's clearly not all sweetness and dough in front of the ovens. Temperatures often rise, and with good reason: a lot of hard work goes in to setting up such a niche business – with long hours and plenty of manual work – yet artisan bread commands less than one-twentieth of the UK bread market by value. If these bakers were over in Europe they'd have a slice of the 80% of the total bread market which falls to local independents.
Perhaps you have to be a few slices short of a loaf to get into the industry in the first place. For more on the minds behind the hand-crafted loaf, read MT's latest feature which asks: Where's the dough in artisan bread?