Crunch costs us $2.8trn - so far
The Bank of England has called for an overhaul of the world's financial system, as losses approach $3trn...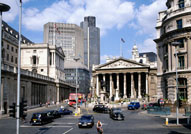 According to the Bank of England's bi-annual Financial Stability Report, the world's financial institutions have between them lost about $2.8trn during the last year – double the estimate it offered back in May, before the autumn market meltdown. And even though governments around the world have now spent $5trn trying to shore up the system, losses are only going to get worse unless there's a 'fundamental rethink' of the way banks everywhere manage their risk. If only they'd worked that out 12 months ago...
A large proportion of these losses have been incurred in the last few weeks, thanks to the massive falls in the stock market. 'The instability of the global financial system in recent weeks has been the most severe in living memory,' said the Bank's deputy governor Sir John Gieve today. He believes that that if the recent bail-out measures work, the actual losses could eventually fall by a third to a half (because banks would have some breathing space, rather than being forced to flog assets immediately on the cheap).
But the £5trn that governments will spend in the process is a jaw-dropping sum – equivalent to about a sixth of annual global output. And if the banks are in hock to the rest of us for such a huge amount of money, the likely end result is that they'll cut back their lending even further. This is bad news for businesses, and bad news for homeowners – indeed, the Bank reckons that 1.2m UK homeowners will find themselves in negative equity if the market keeps tanking at the current rate.