Crunch hits Formula One as Honda stalls
Hundreds of British workers could be out of a job after Honda's shock decision to dump its F1 team...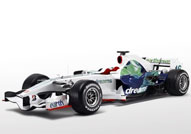 Honda has announced that it's pulling the plug on its Formula One team, blaming the impact of the world financial crisis. With car sales in the doldrums, it's clearly become impossible for Honda to justify spending £200m a year on a F1 team (particularly a rubbish one) – and so it's decided to bring its 50-year association with the sport to an abrupt end. The surprise news has sent the sport into a tailspin, and also puts the jobs of the 800-odd staff at Honda's Brackley plant at risk – there's still a slight chance the team might be sold, but the chances are that they'll all be made redundant by Christmas.
The suggestion is that Honda has been forced into this by angry shareholders. With car sales tanking everywhere, forcing the carmaker to cut back its manufacturing operations, investors are not surprisingly dubious about Honda splurging so much cash on F1. And you can see their point. Despite the high hopes associated with Honda a few years back, the team seems to have gone backwards in recent seasons. This year it finished second-last in the manufacturers' championship, while highly-paid driver Jensen Button was rock bottom of the drivers' rankings. Not exactly the best advert for Honda's technical wizardry...
Button, who had a £50m five-year deal with Honda, will certainly be the most high-profile addition to the growing ranks of the UK unemployed. But given that he's apparently banked over £30m from his Formula One career so far (total race wins: one), we're unlikely to see him queuing up for his Jobseeker's Allowance while he tries to find another drive. Instead we'll reserve our sympathy for those 800 factory workers, who will now spend their Christmas preparing for the dole...