Crunch puts the mochas on Starbucks profits
More tales of woe from coffee giant Starbucks, which saw its profits slump by 97% last quarter.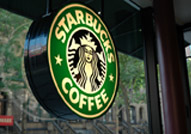 Starbucks made a measly net profit of $5.4m in the three months to September 28, a 97% slide from last year's equivalent figure of $158.5m. The cost of its ongoing restructuring efforts was the major reason for the precipitous drop, adding a $105m hit to the bottom line, although the coffee chain also saw an 8% fall in like-for-like sales. All the numbers were worse than analysts expected – and the subsequent 3% fall in its share price means it's now lost 58% of its value in the last year. Investors will be steaming.
Starbucks' revenues were up slightly, from $2.44bn to $2.52bn – but that was lower than the expected figure of $2.58bn (it also gives it a profit margin of 0.2% - even online retailers in the dotcom boom would have blanched at that). And if you strip out the impact of new outlets, sales were actually noticeably down on last year, so it's definitely seeing lower footfall. Clearly its days of reporting bumper growth figures are well and truly at an end – possibly for good. It said yesterday that it would open fewer international stores than previously planned, and also sell cheaper drinks – both of which will have an impact on revenues.
To be fair, CEO Howard Schultz – who was brought back to steady the ship earlier this year – is under no illusions about the extent of Starbucks' problems. He's already admitted that the chain has opened far too many outlets, and is now desperately trying to cut costs in order to boost margins. He's in the process of closing over 600 in the US alone (plus another 60 in Australia), getting rid of more than 1,000 jobs in the process. But although this will save money in the long term, it costs money in the short term (about $105m, to be precise).