Crunch time for bankers
More bad news for the masters of the financial universe today, with a report suggesting that thousands of City jobs will be lost as a result of the credit market turmoil.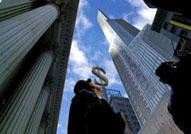 The Centre for Economics and Business Research reckons that 6,500 people could get the chop in the coming months, with most of the casualties coming in private equity, investment banking and hedge funds – the three areas of the financial market that have profited most from the boom of recent years.
It also says that bonuses could fall by 16% to £7.4bn ($15bn) in 2007, compared to last year's record £8.8bn total – less than the 25% drop it was originally predicting, but still enough to sting a bit.
On the other hand, a bit of perspective is probably necessary. £7.4bn will still buy a lot of yachts and Ferraris. And the job losses – while not much fun for those concerned – need to be viewed in the context of the record 11,000 jobs the City is likely to create for the whole year. There are now almost 350,000 people employed in the City, so the cuts will account for less than 2% of this total.