Cruz missile suffers misfire
Zoe Cruz, a co-president of Morgan Stanley and one of the most powerful women on Wall Street, has become the latest casualty of the credit crunch. A few weeks ago the 'Cruz missile', as she's known, was on target to be the first woman to run a big US bank – now she's crashed and burned.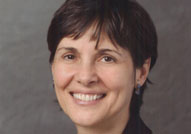 Cruz has 'stepped down' as co-head of institutional securities and wealth management at Morgan Stanley, shortly after the bank's admission that it lost $3.7bn on a misjudged bet on the US sub-prime mortgage market. Naturally Morgan Stanley isn't admitting any connection between these two facts, but analysts have not been slow to conclude that she's carrying the can for the record losses.
One of the few women to hold senior positions on Wall Street, Cruz was the 16th most powerful woman in the US, according to Forbes magazine, and also the highest-paid – she took home a $30 million pay cheque in 2006.
Cruz had been with the bank for 26 years, and as recently as this month was being touted as a potential successor to current boss John Mack – earlier this year, he'd given her the credit for the bank's record results in 2006. She must have been doing something right to get her very own nickname (not just an unimaginative use of her surname, but also a reflection of her combative style, apparently)