Cuba is finally embracing the power of entrepreneurs
The government's bid to lift some of its stifling restrictions is a sign of progress.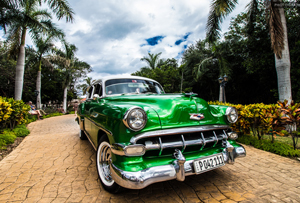 Small and medium-sized firms are, we hear from the government on repeat, the life blood of the economy. They're part and parcel of a capitalist country, so it's a significant step to see Cuba's government announcing a move to legalise thousands of small and medium businesses that have been cropping up in the country.
In a document published yesterday, the Communist Party detailed a plan for Cuba's economic development, including the announcement that individuals could now create 'private businesses of medium, small and micro size' that would now be recognised as 'legal entities'. The guidelines won't become law until Cuba's National Assembly approves them in July, but the fact it's part of the plan at all is an interesting sign of the times.
It marks a big change from years of criticising free markets and 'US imperialism' – the hemisphere's sole communist country is now saying private enterprise has a vital role to play within its economy. The document said, 'Private property in certain means of production contributes to employment, economic efficiency and well-being, in a context in which socialist property relationships predominate.'