Curry King Gulam Noon trapped in Mumbai chaos
Sir Gulam Noon, the star of next month's MT interview, had a narrow escape in Mumbai this week.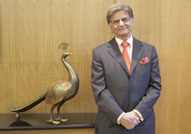 The Indian-born food entrepreneur, who's known as the 'Curry King', apparently spent Wednesday night trapped in his room in Mumbai's Taj Mahal hotel, while the shocking events of the night unfolded beneath him. Noon told the Times that he cancelled a dinner reservation in the restaurant at the last minute, which meant he was upstairs when armed terrorists burst into the building. He then spent an anxious night blockaded in his room, while bombs, bullets and fires went off outside his door, before being rescued this morning.
You may not have heard of Sir Gulam Noon, but you'll almost certainly have seen his products – British supermarkets sell 1.5m of his Indian ready meals every single week. This makes him one of the UK's most successful and high-profile Asian businessman, with an estimated fortune of about £50m since he sold his company Noon Products to Kerry Foods (though he's stayed on to oversee the division).
Noon was born in Mumbai (or Bombay as it was then called), and remains a regular visitor to the city. However, after making his fortune in the UK he adopted it as his home, even becoming a knight of the realm in 2002 – so he was presumably at risk from the terrorists who were seeking out British and American citizens (even though he's an Indian-born Muslim). However, we're delighted to say that he seems to have escaped in one piece.