Dark days for business as end of BST is bad for GDP
The clocks going back doesn't just mean darker evenings - it means £18bn of lost revenues, according to new research.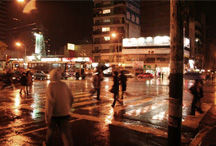 You may have rather enjoyed the extra hour's kip we got this weekend when the clocks went back – but spare a thought for struggling businesses, who are allegedly going to lose a fortune because their staff are so demotivated by the gloomy nights. According to research by ad agency GyroHSR, businesses are set to lose £18bn in productivity because workers have trouble concentrating as the nights draw in. The firm says the only way to counter the profit-sapping effects of the shorter evenings is, naturally, through flexible working. But are UK workers really quite so scared of the dark?
Apparently, 65% of workers said they would have problems concentrating because of the dark evenings. GyroHSR reckons that with businesses missing out on an average of 100 hours' worth of productivity per employee over the course of the six-month period (three and three-quarter hours a week, or 45 minutes a day), that's a lot of lost labour. In fact, it's put the cost (in terms of lost productivity) at £165m a day, or £18bn all in.
The report comes just days after research by Kellogg's suggested that 1.5m members of Britain's workforce don't see any daylight at all during their working week over the winter. Apparently, on an average day, one in three workers sees less than half an hour of natural light, while 16% say they've gone for at least two days without seeing any daylight at all.