The Dark Side of Emotional Intelligence
In little more than 15 years, emotional intelligence (EI) has morphed from a snappy title for a business book into an essential management attribute for anyone who wants to shin up the greasy pole faster than the also-rans. Smart, user-friendly and considerate of lesser mortals, EI has become the leadership tool for aspiring CEOs everywhere.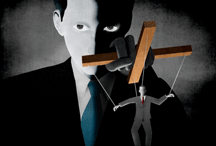 Based on the deceptively simple premise that a little empathy goes a long way, EI's basic principles - noticing, understanding, and managing one's own and other's emotions - have been employed by legions of managers worldwide looking to motivate teams, boost bottom lines and create more vigorous organisations. And while academics still debate the exact definition of emotional intelligence, the HR and consulting world has lost no time jumping on what has proved to be a lucrative and successful bandwagon. EI courses, seminars, conferences and training programmes now abound, and some companies have embraced the idea so completely that they actively recruit and promote based on EI scores.
However, a new report by Professor Martin Kilduff and Dr Jochen Menges at Cambridge's Judge Business School and Assistant Professor Dan Chiaburu at the Mays Business School in Texas, argues convincingly that there may be a dark side to emotional intelligence, one that can be used to manipulate, spin, intimidate and generally bend others to one's will.
'We wanted to ask, how would humans apply these (EI) skills in competitive, rather than co-operative environments,' says co-author Menges, lecturer in human resources and organisations at Judge. 'What if people want to get ahead rather than get along?'