Darling to announce worst budget deficit in 50 years
Public borrowing will apparently hit £175bn by 2011 - the biggest deficit since the Second World War.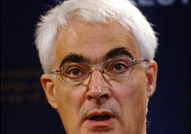 Chancellor Alistair Darling is set to announce a huge rise in public borrowing in next week's Budget, according to today's FT. The £175bn figure is not only miles higher than he originally estimated, but at 12% of projected national income, it would represent the biggest budget deficit since the Second World War. And it's easy to see why: public spending is now expected to jump to an eye-watering 48% of national income in the next financial year. Not the kind of news the Government wants to be imparting in the year before an election…

Back in November at the Pre-Budget Report, Darling told us that public borrowing would hit £118bn this year, then fall back to £105bn next year. But he was clearly wearing his rose-tinted glasses that day: the latest City estimates, released by the Treasury yesterday, suggest borrowing will jump to £160bn this year and £167bn this year after. And even this might be an under-estimate, according to the FT's Treasury sources – it's suggesting the figure might actually be more like £175bn, which would leave the public finances under the kind of strain it hasn't faced for 50 years.

The huge growth in public spending is clearly a major reason for this. Even if you don't factor in the massive sums spent on bailing out the financial sector, the economy's decline forces the Government to shell out more money on benefits, incentives and other hand-outs. It also has to finance the bloated public sector, which is still enjoying above-inflation pay rises and budget hikes. And at the same time, the faster-than-expected slowdown means much lower tax revenues, particularly now the City has been humbled. The end result is that public spending as a proportion of national income is set to hit its highest level since the early 1970s. Again, not a great stat...

Generally speaking, figures as horrible as these would force the Chancellor to spend his Budget explaining exactly how he plans to balance the books – or the Government's economic credibility would be completely shot. But with Labour still trailing in the polls and the economy still heading south, it's not an ideal time politically for Darling to be advocating hair-shirts all round. Frankly, we have no idea how he can magically solve this one - tune in for next Wednesday's Budget to see if he can pull any rabbits out of a hat...


In today's bulletin:
Government to splurge £250m on green car bribes
Darling to announce worst budget deficit in 50 years
UK has the world's worst copyright laws
Brits refuse to mix business with pleasure?
Nick Hood: How Poland plans to stave off recession