Darling on the back foot
David Cameron and Alistair Darling locked horns at the CBI conference in London on Tuesday – and not surprisingly, the Chancellor's controversial tax plans proved to be the main battleground.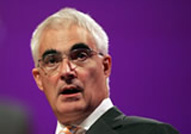 Cameron clearly smelled blood, following the business community's angry response to Darling's capital gains tax hike, and the CBI gathering seemed to be the perfect opportunity for him to go in for the kill (although since he seemed to spend much of last year distancing himself from business in his desire to woo Middle England, some of those present may have been sensing a touch of opportunism).
'How does it help to put burdens on our wealth-creators while France, Germany, Australia and Spain are all busy liberalising, cutting tax and cutting regulation?' he demanded on Tuesday, calling on Darling to back-track. 'The best thing he could do is stand up, admit he's made a mistake and abandon his ill-conceived plans'. Given the audience, he was probably preaching to the converted.
But he wasn't just complaining about CGT. The Tory leader thinks his right honourable friends on the other side of the chamber have increased the tax and regulatory burden to unmanageable levels. 'Business faces huge pressures today, and government's role should be to make it easier, not harder, to do business,' he said.