Darling gets war-chest as borrowing not as awful as expected?
Better-than-expected borrowing figures may give Alistair Darling a handy windfall for next week's Budget.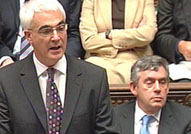 Last month's public sector borrowing figure wasn't pretty: the Government had to borrow £12.4bn to balance the books, the highest February figure on record. However, it was slightly less awful than the £14bn economists had been expecting. So even if we have an absolute shocker in March, it looks quite likely that the Chancellor will undershoot his previous estimate of the deficit for the financial year by a wide margin – possibly £5bn-£10bn. Now, this money could be used to pay down our whopping national debt. Or it could be used to fund a pre-Election giveaway in next week's Budget. Wonder which one the Government will go for?

February's borrowing figure of £12.4bn came in lower than expected thanks largely to a huge jump in VAT receipts, up by almost a third on last year (pushing total tax receipts up 3.6%, the biggest rise in nearly two years), and the unexpected boon of the banker bonus tax. Coupled with revisions to the figures for the previous three months, that means the deficit for the first 11 months of this financial year now stands at about £132bn. So even if March borrowing is as much as £33bn (the current best guess – it was £20bn last year, by way of comparison), that means Alistair Darling will end up with an annual shortfall of about £165bn - £5bn less than expected, on this measure. And it could be as much as £20bn.

Since Britain's net debt now stands at £857.5bn (equivalent to 60.3% of GDP, although even that's marginally better than in December), you'd think that the obvious answer would be to use these spare billions to start paying it down. After all, if you had a massive debt outstanding and received an unexpected windfall, that would be the logical thing to do, right? But this is politics we're talking about, so the chances of that happening are virtually nil. Instead, with the Budget due next week, the Chancellor will presumably use this money to fund some nice pre-Election cuts to shore up the core vote.

It's obviously good if the economy is recovering slightly better than expected (and that confidence seems to be trickling back to the manufacturing sector, according to the CBI's latest research). But it's a little hard to see much cheer in today's figures. They might be slightly less horrific than expected, but they're still horrific. We're still racking up fresh debt at a record rate, and it's still going to take an almighty squeeze after the election to balance the books. Public money (not least via civil service jobs) is still propping up the economy; once that stimulus is removed, things could get even uglier.

In today's bulletin:
Darling gets war-chest as borrowing not as awful as expected?
Nissan to turn over a new Leaf in Sunderland
Uproar as Prudential boss takes non-exec role at SocGen
Greenpeace goes for broke with killer Kit Kat campaign
MT talks to The Catering Academy's Louise Wymer