Darling hikes NI again - and hits banks with bonus tax
Is ramping up national insurance for employers and staff really going to help our ballooning deficit?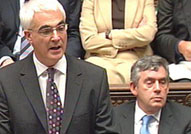 Not many surprises in today's Pre-Budget Report – as usual, most of the measures had been extensively trailed in advance, with largely-unchanged growth and borrowing predictions and the widely-expected banker-bashing bonus tax (though it'll hit banks directly rather than bankers). But although there was some good news for (particularly small) businesses, the speech had a sting in the tail: a further 0.5% hike in national insurance for employers and employees from April 2011, on top of the 0.5% already planned. 'A tax on jobs', George Osborne called it – and since it will make it more expensive for firms to employ and hire people, it does seem a pretty odd way of trying to encourage growth...

Even by the usual standards of these things, this was a very political PBR, with Chancellor Alistair Darling banging on about a 'choice between two visions'. The Tories said it was more a Pre-Election Report than a Pre-Budget Report – and it's certainly true that Darling shied away from any painful cuts or tax hikes. VAT is going back to its old rate of 17.5%, there's no big change to income tax, and rather than taking the axe to the public sector, he merely talked about slower spending growth. But since he's also promising to halve the budget deficit in the next five years (although it's actually a bit less than that), where's all the money going to come from?

Certainly not from the bonus tax (or the 'bank payroll' tax, as it's officially called). The theory is that any banks who decide to pay out bonuses over £25,000 (i.e. most investment banks worth their salt) will be charged a 50% tax on the sum total of these bonuses - the aim being to encourage them to retain their profits. Darling insists there'll be strong anti-avoidance measures, to stop people transferring bonuses into salary or stock etc – but the plan remains very light on detail. The Government reckons it'll raise £550m this way, but frankly, we'll believe that when we see it.

In fact, the most significant tax announcement was the NI increase, which the Treasury reckons will raise an extra £4.5bn a year or so from 2011. It'll only apply to people earning over £20,000, but it's still effectively a stealth income tax hike for the majority of people in the UK. It will also add to the costs of every single business in Britain, large and small, while acting as a disincentive to hire new staff. After a body-blow like that, deferring the corporation tax rise (another of today's announcements) seems rather scant consolation.

What's more, the whole focus of Darling's speech was (supposedly) that the UK's recovery depended on fostering growth and addressing youth unemployment – yet he's brought in a tax hike that may well have precisely the opposite effect in both cases. How does that make any sense?

In today's Pre-Budget Report Special:
Darling hikes NI again - and hits banks with bonus tax
Editor's blog: Darling thinks small in Pre-Budget bore-fest
EasyJet boss hits the eject button after Stelios spat
Want a pay rise? Move to Romania or Kenya
A Life of Enterprise: The small print, or, Ernie and Edna