Darling to increase NI to fund £20bn spending binge
There was a sting in the tail of Monday's Pre-Budget Report: a 0.5% increase in NI (after the election)...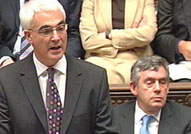 Since almost every aspect of the Government's fiscal stimulus package has been extensively trailed in the media in the last few days, the only real question was how Alistair Darling planned to pay for this unprecedented spending spree. And on Monday afternoon the Chancellor revealed that one way will be a 0.5% hike in the rate of National Insurance, for both employers and employees. This will only be introduced in 2011 – which just happens to be the year after the election is likely to take place...
The centrepiece of the Government's stimulus package will be a temporary 2.5% cut in VAT (who'd have guessed it), which will drop to 15% for 13 months from December. The Treasury has also brought forward various public spending programmes, made permanent the temporary tax cuts it offered to those affected by the 10p tax rate fiasco, and produced a £1.8bn support package for the housing industry. All in all, this will supposedly boost the economy by £20bn in the next 18 months – equivalent to about 1% of GDP.
In the short term, this means the government will have to max out its credit card even further: borrowing will more than double to £78bn this year, and then shoot up again to £118bn in 2010. In fact, by 2013/14, the national debt will be almost 60% of GDP – and according to Tory sums, it's likely to top £1trn before it starts to fall again (which won't be until 2016). This staggering sum, which dwarfs any previous government borrowing, could get even higher if the Government fails to find £5bn of cost savings (more than likely), and if the economy isn't growing by 1.5%-2% in 2010, as the Treasury optimistically predicts (also more than likely).