Darling: For my next trick...
Ahead of this afternoon's pre-Budget report, what fiscal magic does the Chancellor have up his sleeve?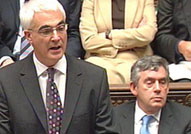 Talk this morning has been dominated by the rumoured 2.5% cut in VAT, to be paid for in part by that other headline-grabber: a tax rate of 45% on earnings over £150k.
The income tax change is noteworthy more as a political statement - marking a move back towards traditional Labour values - than anything likely to raise huge sums of money. Not only would it apply to a relatively small sector of society, but those it does affect are rich enough to employ people to help them get around paying. Still, there will be those scaremongering about Labour returning to the dark days of the 1970s, when simply wearing a suit and carrying an umbrella seemed enough to get stung.
Many will welcome the VAT cut as a way to stimulate consumer spending, but will it be enough? It's certainly not the most creative way to solve the problem, but it will probably be effective in encouraging people to throw their money about a bit and get the wheels turning again.