Darling on the ropes
Who'd be Chancellor of the Exchequer? Alastair Darling put in a robust showing on Tuesday in his first big outing since replacing Gordon Brown, but couldn't escape opposition taunts that he had pinched most of his best ideas from them.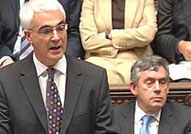 The Chancellor found himself in a difficult position ahead of his Pre-Budget Report – it was hard to ignore the voter-friendly policies proposed by the Tories last week, but any similar proposals were bound to provoke accusations of plagiarism. In the end he chose to go for the jugular, specifically attacking two of their headline policies, on inheritance tax and non-domiciles.
He proposed to raise the inheritance tax threshold for married couples to £700,000 – but said the Tory plan to raise it to £1m would cost £2bn, and only really benefit the wealthiest in that group. He promised to spend the extra £2bn on health and education instead, winning him his biggest cheer of the day from the back-benches.
He also attacked the opposition's sums on their flat tax on non-domiciles – this would raise just £600,000 rather than the £3.5bn suggested by the Tories, he said, and penalise immigrant workers. However, he did promise to crack down on the current set-up, possibly by introducing an extra charge on non-doms after seven years.