Darling unveils RBS and Lloyds break-up plans
As expected, RBS and Lloyds are being forced into major disposals. So who comes off best?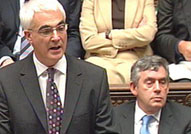 Chancellor Alistair Darling has finally unveiled how big a price Royal Bank of Scotland and Lloyds Banking Group will be forced to pay for going cap-in-hand to the taxpayer – and for RBS in particular, the picture looks pretty grim. As well as selling off over 300 branches, it must also flog its insurance division, a card payment business, and some of its investment banking arm, while the fresh capital it has to raise could take the taxpayer's stake up to 84%. Lloyds will also see its high street presence diminished, via the sale of more than 600 UK branches – although since it's managed to avoid taking any more Government money, it may feel it got off relatively lightly…

The EU's competition regulator has come down pretty hard on RBS – clearly harder than boss Stephen Hester expected. It's being forced to hive off its old Williams & Glyn branch network in (mostly north-west) England, along with its NatWest branches in Scotland; that's almost one-sixth of its entire network, and will apparently cut its market share by two percentage points. Of particular interest to MT readers may be that its slice of the small business banking market will shrink from 30% to 25% - with new entrants set to take that share, there could be some good deals up for grabs. Meanwhile its participation in the Government's asset protection scheme will see the taxpayer pump the best part of another £25bn into the ailing bank, which could increase our stake to 84%.

Lloyds, too, is being forced into some serious divesting, all in the name of boosting competition. About 20% of its entire mortgage book will get the chop, with Cheltenham & Gloucester, Intelligent Finance and Lloyds TSB Scotland all on the block. And although it has managed to avoid taking any more money from the Treasury – instead it's raising £21bn of private money via a rights issue (some of which from the Treasury) and a debt-for-equity swap – it's been hammered with a whopping £2.5bn fee for the taxpayer's implicit backing in recent months.

Darling insisted all this will mean a 'better deal for the taxpayer'. And he may be right. We're putting money into the banks on very favourable terms. Their losses so far haven't been quite as bad as expected (and should get better rather than worse). Our total liability has been slashed by about £300bn. Bonuses have been deferred until 2012. The banks have about five years to get rid, so it's not as much of a fire sale as it might have been. And ultimately, we should end up with a few new entrants to boost competition – although since this appears to stem almost entirely from the EU, we're not sure the Government can really take any credit for it.

In today's bulletin:
Darling unveils RBS and Lloyds break-up plans
ITV can't even give Friends Reunited away
Sign up for our free MT breakfast debate - why bosses and IT types really need to talk more
Vicars losing faith in paltry pension pot
Entrepreneurs driven by hardship, not hard cash