Dave Carroll takes broken axe to United Airlines
As airline customer complaints soar, a Canadian folk warbler takes matters into his own hands.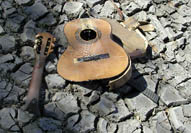 The number of customer complaints against the airline industry has risen by 11% in the last year, according to the Air Transport Users Council. The industry is in such a parlous state that any corner that can be cut – short of making the planes unsafe to fly of course – has already been lopped off. Expensive and time-consuming customer service has long gone out of the window.

A prime example of this is the public relations disaster currently swirling round United Airlines, caused by its maltreatment of the Canadian country and western musician Dave Carroll. Last year Carroll was in transit between Chicago's O'Hare airport and Nebraska to tour with his band, Sons of Maxwell, when the trouble started. He was forced to watch as his $3,500 guitar was cruelly chucked about by United Airlines baggage handlers, causing considerable damage to the instrument. After months of calls and emails to various United staff, who didn't deny the damage had taken place but tried to palm off the responsibility for sorting it out onto someone else, Dave decided to take action and grind away on his axe. An unbroken one, presumably.
He composed a latter-day protest ballad called 'United Breaks Guitars' (watch it - you'll be glad you did) and posted the accompanying video on YouTube. At the last count it has notched up 3.7 million hits, and the airline's share price has dived by 10% . United has, naturally, now made a desperate offer of amends but Carroll has told them where to stick it. He's quids in, as his little number has earned him some nice royalties – the song is currently the 20th best-selling track on iTunes Canada, and he has two follow-up ditties in the pipeline.
For all the grief he has endured, Mr Carroll can be thankful for one thing: at least it wasn't Ryanair he was travelling with. They'd have charged him a supplement of three hundred 'Euro' to lob the guitar into the hold in the first place. Secondly, he'd be bankrupted and in an asylum as a result of ringing a £1.50 a minute customer service line for months on end. And thirdly, they'd have attempted to turn it into a publicity stunt as they offered him free access to their on-board lavatories and Bullseye Baggies for life by way of compensation.