Has Dave Lewis finally dragged Tesco back into the black?
The chief exec has been under pressure to show that his turnaround efforts are paying off.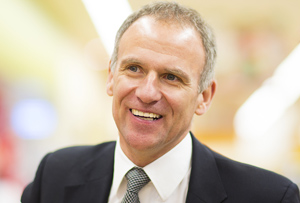 Dave Lewis could finally be reaping the rewards from his 2014 turnaround plan, according to some pretty positive analysts' predictions. Tesco is expected to reveal a return to full-year profits and its first quarter of underlying sales growth for more than three years in its results on Wednesday.
House broker Barclays is predicting a 0.8% increase in sales at established UK stores for the three months to Feburary – maintaining the momentum from an unexpected 1.3% rise in underlying sales over Christmas.
The supermarket is expected to post pre-tax profits of £447m for the year to the end of February – a big improvement after announcing one of the biggest losses in UK corporate history last year - a massive £6.4bn. Though it's still a fair way from clambering pack to its former perch. The improvement in profits is predominantly be due to not having to deal with the hefty impact of the £4.7bn of property write-downs Tesco took the year before, when fewer customers visited its out of town supermarkets.