David Cameron promises big tax cuts for the 'squeezed middle'
The Prime Minister vows to raise top tax rate threshold from £41,900 to £50,000 in conference speech.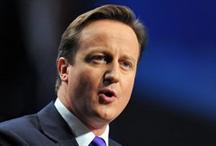 David Cameron has made a series of vote-grabbing election pledges in his speech to the Conservative Party conference, headlined by tax cuts and an extension of the ring fence on the NHS budget.
The tax cuts, promised over the next Parliament should the Conservatives win the next election, and primarily aimed at middle income earners, are centred on moving tax band thresholds. Cameron promised to raise the threshold for paying the 40p rate from £41,900 to £50,000 and to raise the tax-free allowance from £10,000 to £12,500.
At the same time, the Prime Minister told the conference in Birmingham that Britain would 'always have the most competitive corporate taxes in the G20' under a Conservatives government. He did not indicate how much these tax cuts would cost, simply saying that the Conservatives would continue to reduce the deficit through spending cuts not tax rises.