David Cameron: 'We need a proper industrial strategy'
At the CBI conference 2012 the PM, and the CBI president Roger Carr, call for more industrial strategy and less red tape.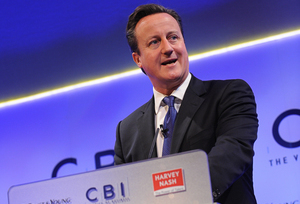 The CBI's annual conference is one of the biggest events of the business calendar - and Prime Minister David Cameron took the opportunity to show that supporting British businesses is a key priority of the government.

'This government gets it. We get what British business needs,' he said at the Confederation of British Industry's annual conference 2012. 'You need us to deal with our deficit, to cut business taxes so we can compete, to have a proper industrial strategy to get behind the growth engines of the future...to reform our welfare system so it pays to work.'

But the PM admitted that the amount of red tape involved can be too burdensome. 'The government can be far too slow at getting stuff done. So we are cutting back on judicial reviews, reducing consultations, getting our roads and infrastructure built more quickly, and we are dealing with excessive European regulation which is holding us back.'

CBI President Roger Carr also warned that the government and businesses must work together to bring Britain back on the path to prosperity, and said Britain needs a 'strategy that doesn't pick winners, but supports sectors.' In a clear message to the government, he said success will 'undoubtedly be strengthened by an industrial strategy in the UK.'

The term 'industrial policy' still has a blemished reputation in Britain, bringing back memories of loss-making nationalised industries of the 1970s when everything from electricity and gas, the post, and phone lines were supplied and managed by the state. Indeed as those with longer memories may already have noticed, it was the Tories who dismantled the nation's last attempt at industrial strategy in the 1980s, replacing it with the siren call of the market. How ironic that they now want it back again.

Of course in recent years, massive government interventions have been back in fashion, if only in the financial sector. But with manufacturing central to the Government's plans for recovery, and with growth remaining sluggish, there have been repeated calls for a renewal of state industrial policy in these areas too.
Roger Carr applauded Lord Heseltine's report calling for a better growth strategy, but said the government is too slow at delivering: 'Our criticism has never focused on a lack of initiatives. Business doesn't need lot more new initiatives. We need published words to be converted into good deeds - in infrastructure, for example. Business wants consistency, not plans made on the hoof. Just do it.'