A day in the life of handyman (glamorous it's not)
The Sharp End: A day as a handyman left Dave Waller feeling that he was a bit short of practical skills.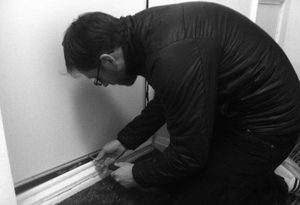 I'm tightening the tool belt this month as the Sharp End is sending me to sample the life of a handyman. Glamorous it's not, even in an Art Deco building. 'I'm here doing the jobs you don't want to do,' says Geoff Saunders, as I arrive at St Margarets, a large residential place on the seafront in Rottingdean. 'Come into the dungeon.'
He's referring to his office. Its contents - a cupboard full of keys, some Resolva weedkiller, masonry paint and a battered old Henry the Hoover - certainly provide a contrast to the elegant lines of the foyer. Yet, as the onsite maintenance man, Geoff is the one person with full run of the place. Sixty per cent of the flats here are rented and 40% lived in by their owners. There's Monty, the 86 year-old who's just moved in and needs help working the lift, and the elderly twins opposite the office who have taken to calling Geoff George. He's now forced to shout 'It's George!' when they ask who's knocking.
The first job is the daily round of checks - from boiler temperatures in the basement to ensuring no one has half-inched the lead covering off the roof. 'You have to act like a policeman a bit,' says Geoff. He says he draws the line at telling residents their doormat is a trip hazard.