Dealing with the downturn
Now Merv's given us official license to use the 'R' word, how can we mitigate the effects of recession?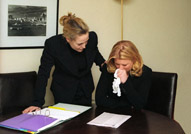 It's just the sort of big strategic question that management consultants love to tackle, and sure enough, today sees the release of a new report from the consultants' trade organisation, the MCA. Pithily titled 'Dealing with the Downturn', the study eschews the popular approach of picking over the bones of what has happened and who is to blame in favour of a more pragmatic – if rather less entertaining – look at what management should be concentrating on over the coming months.
It's an especially important question in view of the fact that so many of today's younger senior managers may not have experienced hard times before and could be uncertain of how to act. Here are a few edited highlights from their findings:
Leaders need to lead. Sounds obvious, but troubled times are when great leaders can really make a difference. So don't hide away in your office with a wet towel wrapped round your head, trying to think your way out of the problem. Get out there and talk to people. See and be seen, tell your employees what's happening and how you are dealing with it. If there's bad news to impart, get on with it before the rumour mill goes into overdrive. And don't panic – prompt but considered decisions are required, not knee-jerk over-reaction.