Dealing with a prodigy, with YouTube
Keep up with the office rising star, with Family Guy, Good Will Hunting and The Royal Tenenbaums.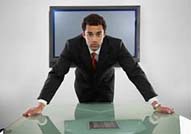 In business, there's always a new boy or girl coming up quickly on the rails behind you, determined to get ahead in the fastest possible time. So in the week that diver Tom Daley won World Championship gold aged just 15, we look at how to deal with the impact of a bright young thing who blazes a trail towards the top – leaving some disgruntled incumbents in their wake. What's the best way to stay on top of your game, and not be intimidated?

Understand them as people
Even prodigies have problems. In The Royal Tenenbaums, Chas might seem like a fearsome teenage tycoon – but his Dalmatian mice-breeding business and real estate empire are partly a reaction to his dysfunctional family life (though his 'preternatural understanding of international finance' might have been usefully employed in recent years).

Don't be threatened
It's hard to deal with an upstart who appears to know it all – it can bring out your own inferiority complex. In Good Will Hunting, Professor Lambeau finds it hard to cope with the fact that Matt Damon's lowly janitor can complete mathematical proofs that are beyond his own powers – particularly since he seems intent on wasting his talents. (warning: some fruity language)

Fight fire with fire
Ever wondered what it'd be like to see Stewie, the talking baby from Family Guy, pit his wits against Wall Street's fearsome alpha male Gordon Gekko? We did. So thanks to 20th Century Fox for bringing them together in this clip. It shows that when two big egos collide, it's important not to give an inch.

In today's bulletin:
Things are getting worse more slowly!
Crashing PC sales send Microsoft profits tumbling
Employees vs employers as UK battles recession
Are SMEs exploiting work experience kids?
Dealing with a prodigy, with YouTube