Dealing with protests, with YouTube
How to cope when you're up against it, with Michael Caine, Life of Brian and Tombstone...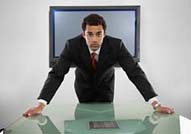 Meet people half-way. If the demands are reasonable, be willing to go along with them, even if it's taken a while to get there. As Pontius Pilate finds out in Life of Brian, it's sometimes worth persevering through the ridiculous requests because someone out there might be talking some sense.
Keep morale up. When the outside world is against you, make sure your own troops are on your side and manning the barricades. That doesn't mean you have to resort to singing, like Michael Caine's soldiers in Zulu, but if all else fails, it might help.
Stand firm. If things are getting out of control and you're worried the mob might get the upper hand, it might be time to take a leaf out of Wyatt Earp's book and say enough's enough. Know when to end the talking and stand up to your opponents - although preferably without the messy scenes at the end of Tombstone.