DEAR CAREER ANGEL: I'm dreading my office party
A nervous worker is nervous of socialising outside the office. How does she embrace the Christmas spirit?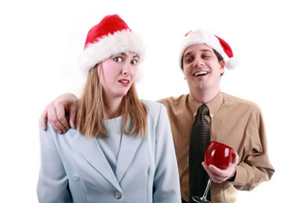 Dear Career Angel,
I dread this time of year! I have an office party coming up and a couple of client events but I am so shy that I never enjoy myself and can't wait for them to be over. Do you have any advice for me?
Maria, Leeds
Dear Maria,
Sometimes I wonder why we bother with office parties. There are so many people like you who dread them, and of course, those at the other end of the spectrum who won't be able to show their face the next day! Anyway, it's a tradition to share a drink, and maybe a dance, with colleagues and clients at this time of year, so here are a few simple tips to help you survive.
To anyone who hates going to any kind of party or work event, I would suggest meeting up with a friend or good colleague beforehand. Having a morale-booster at your side will give you confidence entering the room; much better than going alone. Of course, a quick drink with them also helps to stiffen your resolve.