Debate: The changing face of the leader
Whether it's managing a far-flung team, projecting the right values or venturing onto Twitter, the challenges facing those at the top of business have never been more various. In association with Unilever, MT debates the evolving nature of leadership.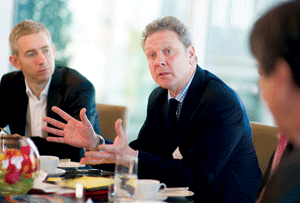 ---
In association with Unilever, MT gathered eight business leaders to discuss whether leaders are born or made.
On the panel were: Andrew Saunders, deputy editor, MT; Nigel Nicholson, professor of organisational behaviour at London Business School; Leena Nair, SVP, leadership and organisational development, Unilever; Caroline Plumb, co-founder and CEO, Fresh Minds Group; Peter Earl, CEO, Rurelec; Srikanth Iyengar, head of UK and global head of sales, Infosys; Andrew Peters; divisional director, Siemens Industry; Andrew St George, St George Partners and author of The Royal Navy Way of Leadership; and Doug Baillie, chief HR officer, Unilever.

---
Andrew Saunders: It's axiomatic that the best leaders - whether in business, politics, sport or whatever it may be - are born to the task. Cometh the hour, cometh the Steve Jobs, Marjorie Scardino or Nelson Mandela. But is this really the case? For every natural born entrepreneur or chief executive, there are many others for whom the skills and aptitudes required for leadership have had to be learned. Add in the challenges of keeping the talent pipeline fully supplied in high-growth emerging markets and the case for developing your own people becomes even more compelling. So are leaders born or made? And why do we need them?