Debenhams offers early Christmas present
Debenhams finally provided some good news for its long-suffering investors today, after two miserable years.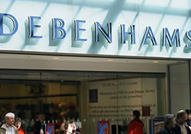 The UK retailer said business was starting to pick up at last, with like-for-like sales up in recent weeks as store refurbishment and improvements to its IT and supply chain started to bear fruit.
Chief exec Rob Templeman admitted that sales fell last year, but said that new product ranges in improved stores were starting to tempt customers away from its rivals, while expanding store space was also boosting profits. The result is that investors will get a dividend almost three times bigger than last year.
The new and improved Debenhams is now well placed to withstand the expected slowdown, according to Templeman (although he would say that).