Debenhams praying for a better Christmas after profits plunge 24%
Bad news for Britain's second largest department store chain today, as pre-tax profits fall to £105.8m.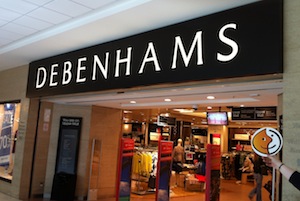 It looks like the warm winter is at least partly to blame for Debenhams' decidedly chilly performance this year. Following several profit warnings and disastrous Christmas sales last year, its pre-tax profits fell 23.9% to £105.8m.

Its like-for-like sales (stripping out the effect of stores opening and closing) increased just 1%, while total revenues rose 1.3% to £2.3bn.

The department store chain sold stock at a greater discount in the January sales after mild winter weather. That goes part of the way to explaining its sustained losses in the first half of the year – but only partly. Next didn't do so badly, for example.

Either way, Debenhams has definitely not had a happy year. Its shares have dropped by 42% since peaking at 111.4p last October. Today, though, the shares actually recovered after falling initially and were up almost 4% to just over 65p in mid-morning trading. Investors clearly expected the bad news.

They may have also been pleased at the positive news that punctuated the retailer's report. Its new online delivery options are now fully operational and online sales have increased by 17.6% to £430.7m. They now account for 15.3% of total sales in 2014 – an increase of 2.1% from 2013.

Meanwhile, click and collect sales are up by 14.9%. Whether the fact that 38% of the brand's sales are now occurring on smartphones can rescue the stores dwindling profits is another question, but Debenhams will be hoping that this increase in mobile and online sales will at least stave off another miserable Christmas.

'After the challenges we faced in the first half, everyone in the business has been focused on addressing the issues we identified… to deliver long-term sustainable growth,' chief exec Michael Sharp said.

No mention was made, though, of Sports Direct owner and majority shareholder Mike Ashley's intentions, after he repurchased his 4.6% stake in the company earlier this month (although it did say it was testing out Sports Direct concessions, as well as Mothercare, Monsoon and Costa).

The company's performance is, however, still at the mercy of the UK's fragile economic recovery. 'Customers tell us that although they are encouraged by economic improvements this has yet to translate into higher disposable income,' Sharp said (although he would say that, wouldn't he).

Debenhams has opened stores in countries as far flung as Estonia, Latvia and Libya in 2014, but a 5.1% rise in international sales to £548.6 million is hardly music to the ears of those who know that the store is facing a difficult future much closer to home.