Debenhams profits up despite gloomy British weather
The department store chain has announced a 4.2% rise in annual profits, despite 'unseasonal' weather.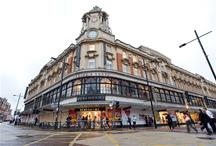 The UK economy is finally growing again, and how better to reinforce the good news than with some strong results from a major high street retailer? Debenhams has announced that pre-tax profits for the year to 1 September jumped 4.2% to £158.3m, with sales also up by 2.5% to £2.3bn in the same period. Bosses will be particularly pleased with the results given the negative impact of weird weather in spring and the wettest summer on record. These factors meant that 'seasonal' items such as clothing took a bit of a hit.
Given that the wider picture on the UK high street is one of doom and gloom, it's no surprise therefore that investors rallied to Debenhams this morning. Shares rose 6.9% in early morning trading, but the chain's boss, Michael Sharp, reacted with a realist approach. He said: 'Looking forward, we believe that customers are acclimatised to the new economic reality. Whilst we don't anticipate a significant change in the economic environment in 2013, we expect to make further progress during the year.'
Debenhams is working hard to consolidate its position, too. It has already modernised 18 'core' UK stores this year, and says that the refurbished ones are already delivering 'sales uplift' (although no figures are given). There are also plans to build 17 entirely new stores over the next five years – a big undertaking given how much retail space a department store requires.