Debenhams reports profits rise
Debenhams defies gloom on the high street with £166m pre-tax profits.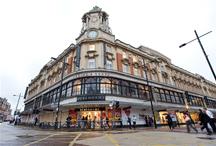 If ever there was proof that Brits are spurning flighty fashion and entering austerity mode, its today's news that Debenhams' profits and sales are up nearly 10% on last year.

The department store has been the staple source of quality, affordable fashion since the 18th century (over 100 years before Michael Marks and Thomas Spencer launched their illustrious joint venture). With its Blue Cross Sales and 'Rocha John Rocha', Debenhams is ever the place to go for a sturdy pair of bargain bloomers and a saucy satin evening dress for under £100.
Latest figures show that pre-tax profits at the department chain have hit £166.1m over the 53 weeks ending September 3. Like-for-like sales have also seen a slight boost, up one percentage point on 2010 (after VAT, however, the figure is back in the red at -0.3%). Not bad going in an industry plagued by rising commodity prices (the cost of cotton hit a 150-year high in February this year) and depressed consumer spending.
Debenhams chief executive Michael Sharp was jubilant: 'We have demonstrated the resilience of the department store model by trading well in a challenging market,' he said. However, knowing how the fates of high street retailers can turn on a sixpence, he added that he intends to 'remain cautious about the strength of consumer confidence over the next 12 months.' Very wise, sir.