Decisions: Bill Jordan, cereal bar entrepreneur
The co-founder of Jordans, entrepreneur of the 'Crunchy' bar and muesli business, talks us through his best and worst business decisions. Respectively, getting into cereal bars and buying the wrong oven...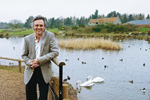 MY BEST...
Was to go into cereal bars. It was something supermarkets as well as health food stores wanted, and it propelled us out of a backwater and into mainstream groceries.
As a small company, we had to be first in. It was no good going to a supermarket buyer and saying we've got a great copy of an existing product - they'd just tell us to clear off. We had to be in there first. They asked us if we thought there was a market for cereal bars, and we said: Of course there is; it's natural, convenient and healthy.
The confectionery market is worth £3 billion, but it's just empty calories; this has got healthy stuff, it's just as convenient, and it's the way the market's going. Then the supermarkets said: How do you know? And we said: There isn't any information - it wouldn't be a new product if we had. If Nielsen had got figures, every uncreative sod in the world would be doing cereal bars.
We launched it in 1980 and it took us six months to make the first million bars. A year or two later, we were doing about two million bars a week.
MY WORST...
We came into natural foods not really knowing much about it. We had belief in what we wanted to do and a little bit of practical information, which actually is not always helpful.
The first two years, we managed to keep up with demand using rotary ovens. As the business got bigger, we wanted to go from a batch process to a continuous process, where the product travels on a belt through the oven.
In the '80s, Lyons was closing its operation in west London and selling a travelling oven, and we went and saw this wonderful-looking thing. We broke it down, brought it home and, to our horror, it didn't do our thing at all. It was designed to do swiss rolls, whereas what we had is a dense oat thing that needs a lot of heat and what they call turbo convection. We had to get another oven in the end, which was quite painful.
We learnt that with a business, you've really got to analyse the risks. If you don't take risks you don't get anywhere, but if you take too many you can make a fool of yourself.