Decisions: David Reiss of Reiss retail
The fashion company CEO on his best and worst decisions.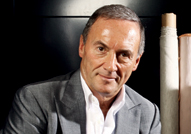 MY BEST... was leaving college early and letting my entrepreneurial spirit run free. I left after the first year of a four-year course in estate management. I just wanted to get on with my life and be a success. So I became an agent for a couple of fashion companies and I was quickly earning a very good living. After three years, I got together with a colleague to set up our own business - a shirt factory in Yorkshire. He ran the factory and I ran the business side of it - the fabrics, the selling, the numbers, and putting the line together. We had 100 people working for us, though it wasn't making any money. But it did give me a valuable insight into the real business world. It quickly made me very decisive and I learnt the importance of having a vision and sticking to my beliefs.
Launching womenswear in 1999 when everybody told me not to because the market was so competitive was another good decision. My belief was reinforced when we won a major retailing award in 2003. We had been a menswear retailer for 25 years, but I saw a gap in the market.
MY WORST... Whenever I interview somebody I always tell them that, working closely with me, you get found out very quickly - you either stay here for 20 minutes or 20 years. We have such a passion that if you're not part of that culture and you're not an asset, then you'll get found out. As soon as a 20-minuter walks through the door, I think of what Terry Venables said: 'They weren't like the brochure.' I get very frustrated with myself because I pride myself on being a good judge of people but it has happened three or four times.