DECISIONS: Gregor Lawson, Morphsuits
The co-founder of the bodysuit firm on working with two brothers, launching the brand on Facebook and working on his courageousness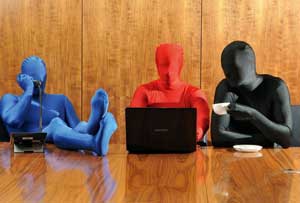 MY BEST ...
... Was choosing to set up MorphCostumes with two brothers. It turns out that three's not so much a crowd as much better at speedy decision- making. Quite often, we'll have two guys who think one thing and one who thinks another. So having three of us makes things much, much easier.
The great thing about Ali and Fraser Smeaton, my business partners, is that we've been friends for years and we're all very similar. Ali and I, in particular, have similar interests: playing rugby, drinking beer - and we both believe wearing costumes makes a good night a great night.
They don't bicker among themselves: we all tend to bicker. And their mum does our invoicing. If push came to shove, she'd probably take my side ahead of the boys.