Decisions: Julie Deane, Cambridge Satchel Company
The founder of the satchel company on why the bags have exploded in popularity, working with family and why you can't necessarily trust your manufacturer.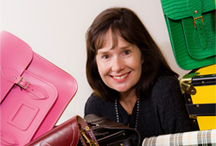 MY BEST DECISION...
Was choosing not to listen to my first manufacturer's advice. When I started the business three years ago, I scoured the country looking for a traditional satchel maker. After three months I found one but he told me that demand for satchels had dropped and nobody would buy any. Now we have orders for 25,000, we sell across the world and expect to turn over between £8m and £10m this year.
I'm also proud the satchels are made in Britain. People buy the bags and know they are helping to sustain jobs here. Our three manufacturers still use the same knives that were used to cut the satchel leather years ago. Two months ago we also opened our own factory in Wigston, near Leicester, which makes 500 bags a day and we're hoping that will go up to 800 soon.