Decisions: Nicolas Samuel
The managing director of Hobbs, the womenswear chain, talks us through his best and worst business decisions.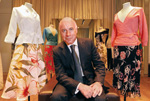 My best...
I have two, which are interrelated. The first was my move into the fashion industry from banking. This was a very good move, but the key best decision I made was leaving the very successful Karen Millen at a time when I was enjoying my career (as financial director) and everything was going perfectly, to join Hobbs as managing director in 2001.
Just by looking at Hobbs and talking to people who knew it, I could see there was an opportunity to take the business from a very solid base and build its reputation and turn it into a much bigger business. Had I stayed at Karen Millen, I might have felt frustration at seeing somebody else come in to Hobbs and do what I wanted to do.
I realised as soon as I arrived that the potential was even bigger than we had first thought. We (the management team) bought Hobbs from the founders in 2002, financed by Barclays Private Equity. It performed so well that we decided after 15 months to re-finance, so we provided an exit for BPE and brought in 3i as our new private equity backer.
My worst...
When we bought the business we had 30 outlets - we are now at 104. One of the areas we wanted to be in was London's Regent Street. Over the past few years the street has gone through a complete transformation and we had the opportunity to acquire a small shop there in 2003. We took the store when it was still a building site.
As the building works were finishing up and down the street and more and more people were visiting, we realised how strong the footfall was and that we had made a mistake. Instead of taking a little store, we should have had a bloody great store like everybody else. You have the flagship stores of Karen Millen, Brooks Brothers, Habitat and Austin Reed - and we've got our very nice, very profitable, tiny little store.
We didn't do enough work on the bigger picture - we should have got to grips with what the re-emerged Regent Street would look like. The lesson is: whether it's a property issue or business in general, just make sure the opportunity has been researched before making a decision.